Michèle Benson –
Cinematographer, Director, Entertainment Photographer
Michèle Benson is an award-winning filmmaker and entertainment photographer. Her subjects and clients have varied from entertainment venues, musicians, film directors to authors, and the international music industry on screen, in print and vinyl.
Michèle has been a consistent contributor to record labels, albums and tour books for Warner Brothers, Elektra Asylum, The Grammy Awards, Cleopatra Records, The Doobie Brothers, and more recently Eagle Rock Entertainment in the UK.
Her music album photography has garnered notability and awards such as First Place Sam Seagull award, and with Elektra Asylum, for Pat Simmons, (Doobie Brothers), 'Arcade'. She has toured with The Eagles, Gregg Allman, The Doobie Brothers, Les Dudek, David Lindley of Jackson Browne and more.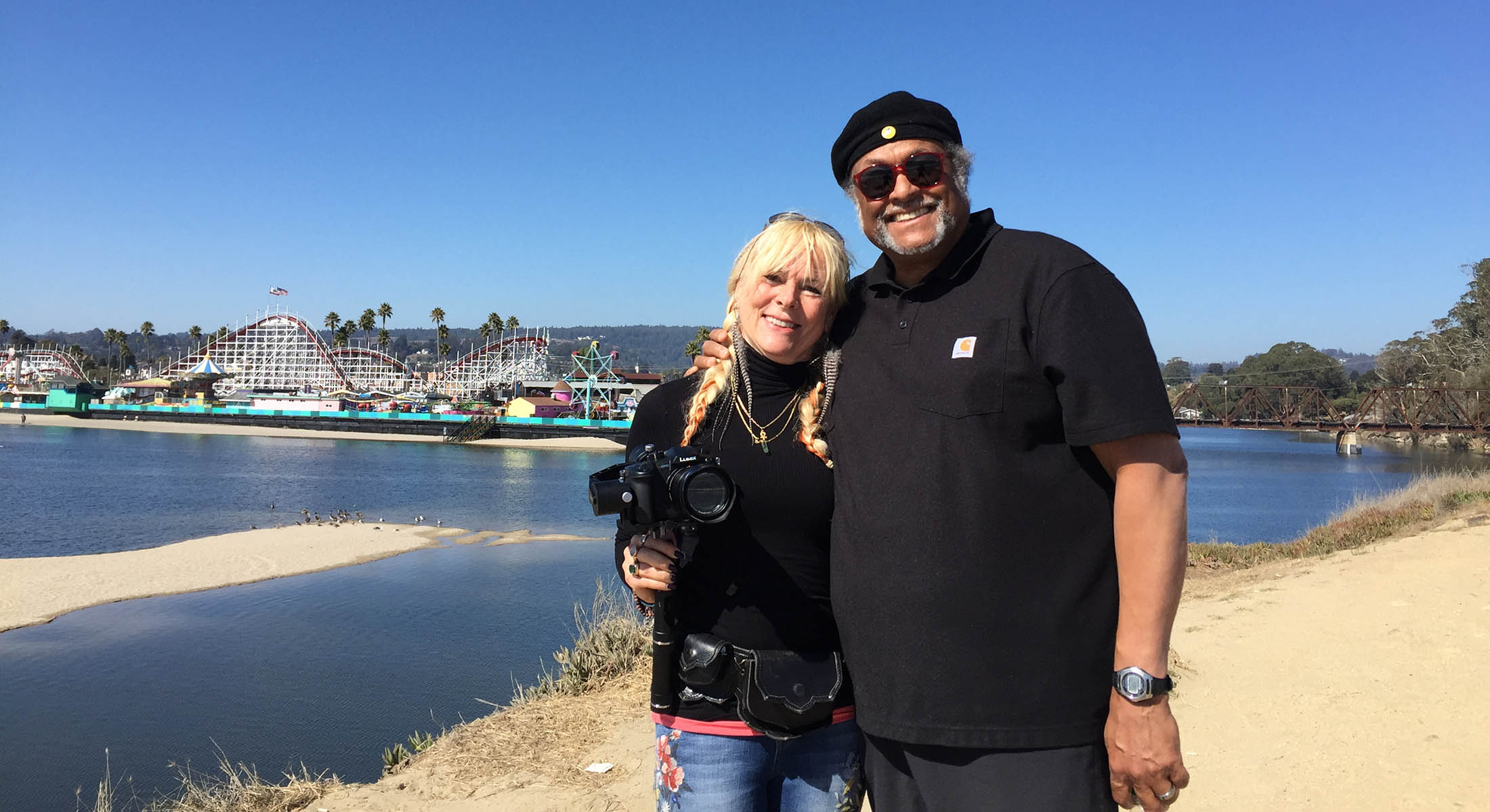 Michèle was cinematographer, director, screenwriter on the highly successful award-winning feature documentary 'The Catalyst'. This bohemian coffee house beginning in the 1960's transformed into a world renowned music venue commanding respect and accolades of international musicians: the Doobie Brothers, Neil Young, Greg Kihn, Huey Lewis and the News, John Mayall, Ry Cooder, Patti Smith, The Tubes and many more.
The Catalyst served as a jumping off point in the career of generations of musicians worldwide. The movie is hosted by rock musician, Greg Kihn. A permanent gallery of Michèle's life sized rock photography resides on the walls of The Catalyst. 'The Catalyst Film' garnered three laurel leaf awards with an acclaimed tour of film festivals around the country.
Her photos have appeared in Rolling Stone, People, The New York Times, Musician Magazine, Guitar Player, Good Times, LA Weekly and more. Recently, her photography was published by Wise Music Group of London, in 'All OR Nothing' the autobiography of Steve Marriott, by Simon Spence. Michèle for many years had her own weekly music column, 'Night Moves' published by Good Times Magazine, which she illustrated with her live music photography.
Recently, Michèle has been a one woman production company filming the history of Santa Cruz's musical legacy. 'All Access – Music in the Cruz', the film – which showcases the storied stages, backstage rooms, recording studios, and late-night jam sessions of the musical giants of our time. All Access; Music in the Cruz is garnered from excerpts of over 200 'behind the scenes' interviews, studio sessions, live performances, and archival footage.
Santa Cruz represents every type of music imaginable—from Grammy Award winners to the latest rising talent. This new feature documentary is an 'all access pass' into 60 years of an extraordinary musical community, of musicians, luthiers, sound engineers, music venues, high-tech inventors, studios and international bands; as she pulls back the curtain into their world – and their undeniable power to craft a unique sound and spirit…that has stood the test of time.
'All Access Film Archives' a sister project and website that will also be launched, behind the documentary. Here you will be able to experience each 'All Access Film' interview with these extraordinary and talented individuals, in its entirety. Their personal story told in their own words of their journey into the world of music, inventions, from the how-to's to the what-happened moments. It will become a 'living library' that can be added to over the years as new talent emerges to preserve the history and legacy of music in Santa Cruz.
Release date for 'All Access; Music in the Cruz', is scheduled for late fall of 2022.
The 'All Access Film Archives', is in process now and will become available after the release of the feature documentary.
Join us on this quest into the 'world of music', the power that music has to uplift us, bring us together, and inspire us to be our best.